i2 Group, a global supplier of link analysis software, is pleased to announce that its i2 Online service has successfully completed the American Institute of Certified Public Accountants (AICPA) SOC 2 Type 1 compliance for security, availability, and confidentiality.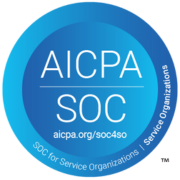 This examination further demonstrates i2's commitment to our dedication to upholding best practices in safeguarding customer data. This internationally recognized standard, conducted by Schellman & Company, has been achieved for our i2 Online service which allows data analysts to connect to external data sources directly from i2® Analyst's Notebook®.
It means that our customers and the data providers that connect to i2 Online can be assured that we have the right systems and controls in place to confidentiality handle their data.
Jamie Caffrey, i2's Executive Vice President, said:
"At i2, we believe that trust is the foundation of every successful partnership. Achieving SOC 2 Type 1 certification is a testament to our relentless pursuit of excellence in data security, availability, and confidentiality.

"Our customers can be assured that their valuable data is in the safest hands possible, allowing them to focus on their investigations with confidence."
What is SOC 2 Type 1
SOC (Service Organization Control) 2 is a standard designed by the AICP that evaluates the effectiveness of an organisation's controls relevant to Security, Availability, Processing Integrity, Confidentiality or Privacy.
As part of the examination, organizations must also demonstrate that they have implemented appropriate controls to protect their information systems from unauthorized access, use, or disclosure.
Why SOC 2 Matters
As data breaches and cyber threats continue to rise, safeguarding sensitive information has become paramount for businesses and individuals alike. SOC 2 compliance is a powerful assurance for our customers that i2 Online adheres to the most stringent data protection practices.
i2 Online was assessed in the following categories:
1. Security: SOC 2 scrutinized the effectiveness of our security measures, ensuring that customer data is fortified against unauthorized access, both physically and virtually. Your information is our top priority, and this certification validates our unwavering commitment to keeping your data safe from potential threats.
2. Availability: We understand the significance of uninterrupted services to our customers. SOC 2 evaluated our system's availability, ensuring that our software is accessible whenever you need it. You can confidently rely on i2 Online to deliver the exceptional performance you expect and deserve.
3. Confidentiality: Your trust is invaluable to us, and SOC 2 certification emphasizes our dedication to maintaining the confidentiality of your data. Our secure environment guarantees that sensitive information is handled with the utmost discretion and privacy.
i2 Online
In fast-changing, complex threat environments, analysts and investigators require data access in near real-time. i2 Online addresses this challenge by seamlessly connecting i2® Analyst's Notebook® to industry-proven data sources to enrich analysis and improve investigation outcomes.
It's easy to use, and i2 provides and maintains the data connectors for you. This means users do not need to spend any time developing, configuring or maintaining links to chosen data sources. We'll do all this for you.
Accessing the power of i2 Online is as simple as opening the application, logging in, and searching public records, social media, open-source intelligence, and more.
ENDS
Notes for editors
About i2 Group
i2 Group is a world-leader in intelligence analysis software. We empower intelligence analysts and investigators to discover, create, and disseminate actionable intelligence to identify the perpetrators of criminal activity. Founded in Cambridge, UK in 1990, we have more than 30 years' experience in helping our users to solve complex problems. Our products have been proven in countless real-world operations and are relied upon by 35,000+ users in more than 140 countries.
Related information