Welcome Zac Roberts, our new Digital Marketing Apprentice, to the i2 team.
Zac started with the Marketing team in November and we are delighted to have him join the team. Here is a little bit about him in his own words...
''I have recently graduated from the 'University Campus of Football and Business,' in Manchester, with a Ba (Hons) degree in 'Football Coaching and Management.' However, I have decided to leave my love of sports to one side, for the time being, and pursue another strong passion of mine, social media.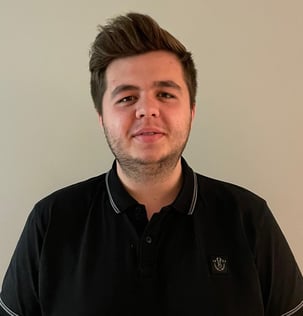 I have joined i2 as part of an apprenticeship programme which is organised by The Juice Academy in Manchester. My apprenticeship is designed to help me gain a Content Creation Level 3 qualification, whilst improving my knowledge and abilities in a range of digital areas, such as contributing to websites, graphic design, and video editing. I look forward to learning a range of new skills whilst studying, and specifically putting these new skills into action for i2!
In my personal life, I am an avid football fan (as suggested by my choice of university courses), and can be found most weekends with family and friends, hoping for a Manchester United win. I also enjoy gaming, walking, and posting my own social media content, mainly on TikTok and X.
I am really looking forward to meeting the whole i2 team, learning about the incredible work that our customers do, and getting started with the company!''
Welcome to the team Zac!
If you are interested in career opportunities with us, visit our careers page.