Welcome Tom Glassco, our new Director of Initiatives, to the i2 team.
Tom joined us in October 2023 as our new Director of Initiatives. Here is a little more about him in his own words: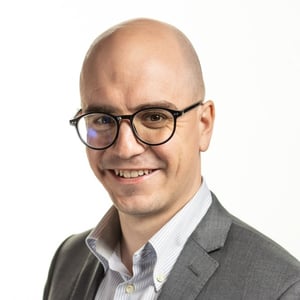 ''My initial impressions of i2 Group have been incredibly positive. I've been fortunate to work with and meet a highly dedicated and driven team that believes wholeheartedly in our mission. Our commitment to being a critical tool in the intelligence community for years to come is inspiring, and I'm eager to contribute to our shared success.
"As the Director of Initiatives, I'm dedicated to building a strong initiative funnel to drive our organic growth in the coming years. I believe our success depends on continuing to adapt our products to an ever-evolving world environment, and I'm committed to fostering a culture of innovation and collaboration within our team.
"My journey to this role has been one of continuous growth and learning. I hold multiple degrees in engineering from universities in my home country of Canada, which has equipped me with strong analytical and problem-solving skills. Since starting my career with Harris Computer, our parent organization, as a summer intern in 2016, I've had the opportunity to hold various roles across a number of Business Units. Most recently this includes having the privilege of overseeing two of our businesses, one in Texas specializing in self-service kiosks (DynaTouch), and more recently, leading K2 Medical Systems' Perinatal Training Programme here in the UK. My new role with i2 is the perfect next step in my career and I couldn't be more excited to get stuck in.
"Outside of work, I recently got married to the love of my life, which has been an incredibly joyous moment for me. In my free time, I enjoy running and reading, which helps me stay focused and clear-minded.
"I look forward to meeting with lots of our customers, driving the business forward and working with an amazing group of passionate and talented individuals.
"Here's to a bright future with the i2 Group!"
— Tom Glassco, Director of Initiatives, i2 Group
If you would like to get in touch with Tom, you can email him directly, or connect with him on LinkedIn.